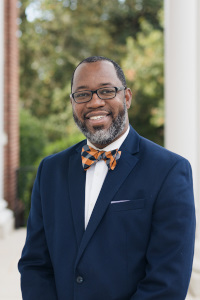 Our 67th annual Harvest Day celebration was held on Sunday, November 12th, with the Rev. Ronjour Locke, Instructor of Preaching and Urban Ministry at Southeastern Baptist Theological Seminary in Wake Forest, as our guest speaker.
Rev. Locke is a native of Baltimore MD, and has been on the faculty at Southeastern since 2018. He also serves as pastor of Treasuring Christ Church in Raleigh, NC.
We became acquainted with Ronjour when he served as the camp pastor at Caswell during the summer of 2022, when our youth group was attending summer camp.
Ronjour's sermon was taken from Psalm 50, and was entitled, "You've Been Served".
See below for an edited version of the Harvest Day service, including Rev. Locke's excellent sermon.